Skinceuticals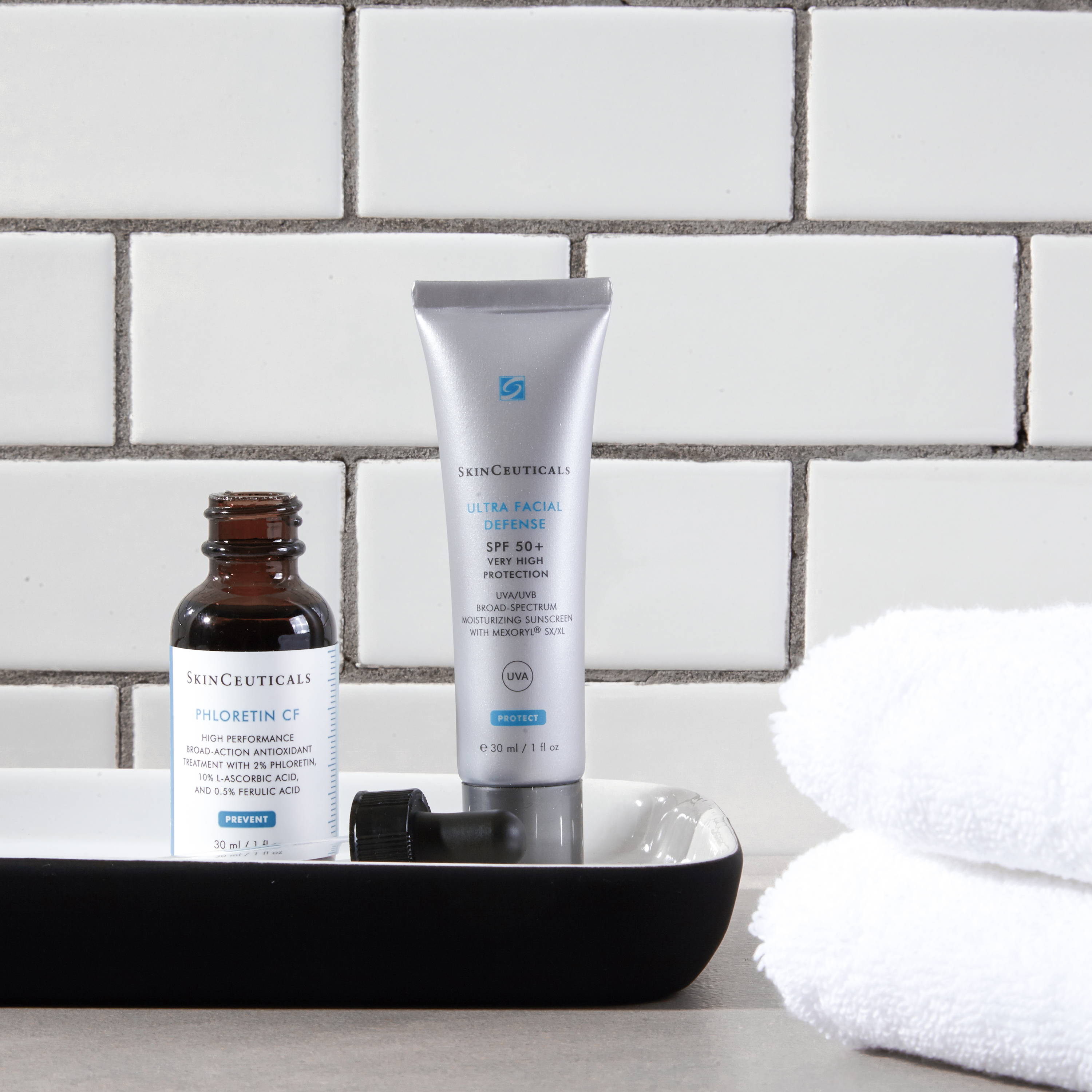 Prevent - Protect - Correct
Skinceuticals is an advanced skincare brand, backed by science. The Skinceuticals product philosophy is built around the principles of Prevent, Protect & Correct. Designed to prevent future damage, protect healthy skin and correct previous damage.
---
Prevention is done with the use of antioxidants. Antioxidants neutralise skin damaging free radicals which are caused by UV, infrared, and pollution. The biggest cause of free radicals damage on the skin is caused by the sun but also from screens, ie computer screens and they are just as harmful as the sun. Skinceuticals have formulated a range of antioxidants that are the most effective in the world and provide advanced environmental protection by neutralising damaging free radicals.
Efficient antioxidents neutralise and strengthens skins internal defence against UVA and UVB. Infra red and pollution allowing skin to self-repair for visible anti-aging and skin correction
With 4 generations of topical Antioxidant Formulations,
10 patents, and more than 200 studies,
SkinCeuticals is a trailblazer in Antioxidant Science.
Skinceuticals Antioxidants are applied every morning under your sunscreen and remain effective for a minimum of 72 hours on the skin. Once it is applied, it starts to prevent oxidation of the skin, providing the first line of defence against aging of the skin.
C E Ferulic – Vitamin C Serum suitable for Normal & Dry Skin.

Phloretin C F – Vitamin C Serum suitable for Normal, Oily and Combination Skin

Serum 10 – Vitamin C Serum for Normal or Sensitive Skin.

Ideal as an introductory antioxidant serum for all skin types.
Protection is the range of Skinceuticals broad spectrum SPF 50 UVA/UVB sunscreens. This is the second line of defence for the skin and it is highly recommended to wear a sunscreen daily, regardless of the weather even if cloudy. These sunscreens work in conjunction with SkinCeuticals antioxidant vitamin C serums to provide comprehensive environmental protection. Broad spectrum sunscreens redirect and absorb UVA and UVB rays from the skin surface to protect against photo aging but do not provide complete protection from free radical damage and this is why it should be applied alongside an Antioxidant.
Two of the most popular at The Kelly Clinic are;
Physical Fusion UV Defence SPF 50

- tinted sunscreen with 100% mineral filters for all skin types.

Sheer Physical UV Defence SPF 50

- Sheer, transparent sunscreen with 100% mineral filters that provides broad spectrum protection.
All Skinceutical sunscreens use 100% mineral filters, are Paraben Free, and help boost the skin's natural defenses to environmental stress.
Correction
There are a whole range of Skinceutical products dealing with specific skin Corrections such as Redness, Pigmentation, Rosacea, and Aging.
A.G.E. Interrupter

– Anti-Wrinkle Cream containing blueberry extract to improve the visible signs of aging caused by advanced glycation end-products (A.G.E.), a

major factor of the natural aging process.

Gives visibly younger and smoother skin. Targets fine lines & wrinkles, skin creping and thinning, dehydrated skin. Top Tip:

HA Intensifier -

A multi-functional corrective serum to boost skin's Hyaluronic Acid levels.

Helps improve the visible appearance of firmness, smoothness, and facial plumpness.

Targets crow's feet, lines around the mouth.
Triple Lipid Restore 2 : 4 : 2 -

nourishing, anti-aging cream

for improvement in the visible appearance of skin smoothness, laxity, pores, and overall radiance.

Ideal treatment for premature aging of the skin, especially on the neck.

Top Tip:

Apply C E Ferulic under Triple Lipid to target an aging neck. This results in a significant improvement in skin texture and elasticity.
Blemish + Age Defence -

An oil-free face serum for aging acne prone skin.

Reduces the formation of acne and clogged pores, while improving the appearance of fine lines, wrinkles, and uneven skin tone.
Redness Neutraliser -

Lightweight cream for blotchy skin. Combats environmental triggers to alleviate skin blotchiness and discomfort.
Hydrating B5 -

Moisturising, booster serum with Vitamin B5 and 0.5% Hyaluronic Acid. Super hydrates skin without clogging pores. Leaves skin supple, and youthful.
Phyto Corrective

- excellent oil free hydrator containing botanical extract and 0.2% Hyaluronic Acid.
At The Kelly Clinic, we offer a range of SkinCeutical's Peels & Treatments.